Navy Mobilization Processing Site (NMPS) hosted the 6th Annual Thanksgiving luncheon on Naval Station Norfolk Nov. 15.
The luncheon is an annual event for wounded warriors, hosted by the United Service Organization of Hampton Roads and Central Virginia (USOHRCV), a non-profit organization with a mission to enhance the quality of life of the U.S. Armed Forces and their families.
November has been designated as Warrior Care Month and this year, to expand the lunch celebration, USO combined efforts with various local businesses to help make the event more memorable for those who attend.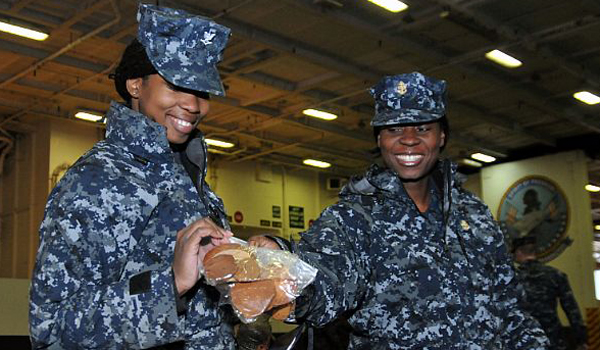 Chief Aviation Ordnanceman Mattie Hackney gives a Sailor cookies during an event sponsored by the United Services Organizations (USO) in the hangar bay aboard the aircraft carrier USS George Washington (CVN 73). George Washington returned to her forward operating port of Commander, Fleet Activities Yokosuka Nov. 22 after a nine-week patrol. George Washington is the Navy's only full-time forward-deployed aircraft carrier ensuring security and stability in the western Pacific Ocean. (U.S. Navy photo by Mass Communication Specialist 3rd Class David A. Cox/Released)
"When I heard the USO was looking for donations for the lunch, it was a no brainer to call everyone I knew and say it's time for us to do our part,"
said Jerri Prophet, CEO of Intellectechs and volunteer for the event.
More than 40 volunteers from the USO and the Hampton Roads community came out to help prepare and serve food for single Sailors who reside in the building, wounded warriors and service members who are rehabilitating or in a transient status and their caregivers at NMPS.
"It feels absolutely great to be a part of this," Prophet said. "I'm always thankful for service members actively serving and those who have previously served, and however we can help, we absolutely want to."
The event has grown tremendously from the first year, starting with only 60 wounded warriors coming out to take advantage of the home-cooked meal.
"We first started the lunch because of a group of individual augmentee's (IA) were coming back from a year of being deployed from overseas and hadn't seen a good Thanksgiving dinner with all the fixings," said Ann Morris, center director of NMPS, USO. "This year we anticipate between 200 and 400 personnel coming through today, and between 200 and 400 coming tomorrow for leftovers, just like home."
For some, the lunch is more than just an annual event. The meaning behind it hits home and becomes an incentive to continue the USO lunch tradition.
"It's something personal to me. When I was a military wife stationed in New York and my husband was out to sea away on deployment, there was a time I went through Thanksgiving without a dinner," said Morris. "So it's important to me for these guys who are away from home who don't get a Thanksgiving dinner, to know that this for them."
The food preparation for the lunch is a task all in itself, beginning days before the event actually takes place. Cooked turkeys, side fixings and baked goods made from scratch are all prepared in the kitchens of volunteers and brought in the day of the event.
Carol Beddard, a volunteer from St. John's Lutheran Church and who they call the Cookie Lady, has been a part of the luncheon for five years and donates her time, as well as five to six dozen home-baked cookies, every Wednesday at the USO.
"It is my Wednesday today, and when I did not come yesterday, it felt strange." said Beddard about coming to the USO on a Thursday. "It's a part of my life and I love coming in and seeing the enjoyment from these Sailors."
The event not only serves as a place where service members can come and enjoy a Thanksgiving meal during the holiday, but it also provides service members an opportunity to enhance camaraderie.
"This is so nice for the USO to do this for us," said Engineman 2nd Class Wayne Carter, who is returning from an IA in Kuwait and transiting through NMPS on his way back to Fort Lauderdale, Fla. "It's definitely a way to bring togetherness to those who are passing through the area like me."
"It is a great idea and very well put together," said Operation Specialist 2nd Class Denim Jarrell, who is also transiting through NMPS after an IA. "I've visited USO's in other locations and they are always so helpful with their accommodations."
Although the luncheon is only an annual event, what emerges from it is more than a once-a-year incentive for some.
"The interaction with these Sailors is so rewarding." said Beddard. "The friendships I make here last a life time."
By Mass Communication Specialist 1st Class Molly A. Burgess, Navy Region Mid-Atlantic