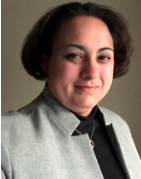 VIRGINIA BEACH, VA (April 15, 2019) – IntellecTechs, Inc., the premier Information Technology provider of professional services to federal and commercial customers, announced today a new Chief Information Technology Officer, Angelique Napoleon. She will have the responsibilities of developing IntellecTechs' strategy for using information and technology resources to satisfy our business and clients/customers' requirements now and in the future. This requires evaluating and implementing new systems and infrastructure across our business and ensuring technologies are used efficiently, profitably and securely. In essence, Ms. Napoleon will unleash the power of our IT capabilities and expertise through innovation, best practices and policy advising to our clients.
"We are very excited to have Angelique Napoleon on our team. Her leadership, knowledge of DFAR and NIST requirements and solutions coupled with her expertise across the information assurance/cyber domain combine to make her an invaluable resource for both IntellecTechs and our clients/customers around the world," said Michael Harris, President of IntellecTechs.
Ms. Napoleon, an Air Force Veteran brings 25 years of "real world" cybersecurity and intelligence experience to her position. Angelique is distinguished by her unique qualifications and experience designing and implementing cost-effective cybersecurity, unique program protection and Anti-Tamper based requirements. She brings the ability to formulate customized system security engineering specifications for complex systems and cutting-edge weapons platforms, as well as develop cost effective strategies to enable sustainment of platforms and solutions for the long term. Throughout her career, she has helped clients, peers, and subordinates diagnose cyber issues centric to their unique missions and unique capabilities to position themselves for mission success. She has a contagious enthusiasm and passionate drive for cybersecurity issues that affect commercial and government clients. She has also led innovative cyber initiatives to enable organizations cost effective compliance with a variety of NIST, DFARS and DOD guidance. Ms. Napoleon previously held leadership positions in Cybersecurity with Synchron Federal, Elbit Systems of America, SAIC and Lockheed Martin. She received her A.S., Space Technology, from Community College of the Air Force and B.A., Intelligence, from American Military University.