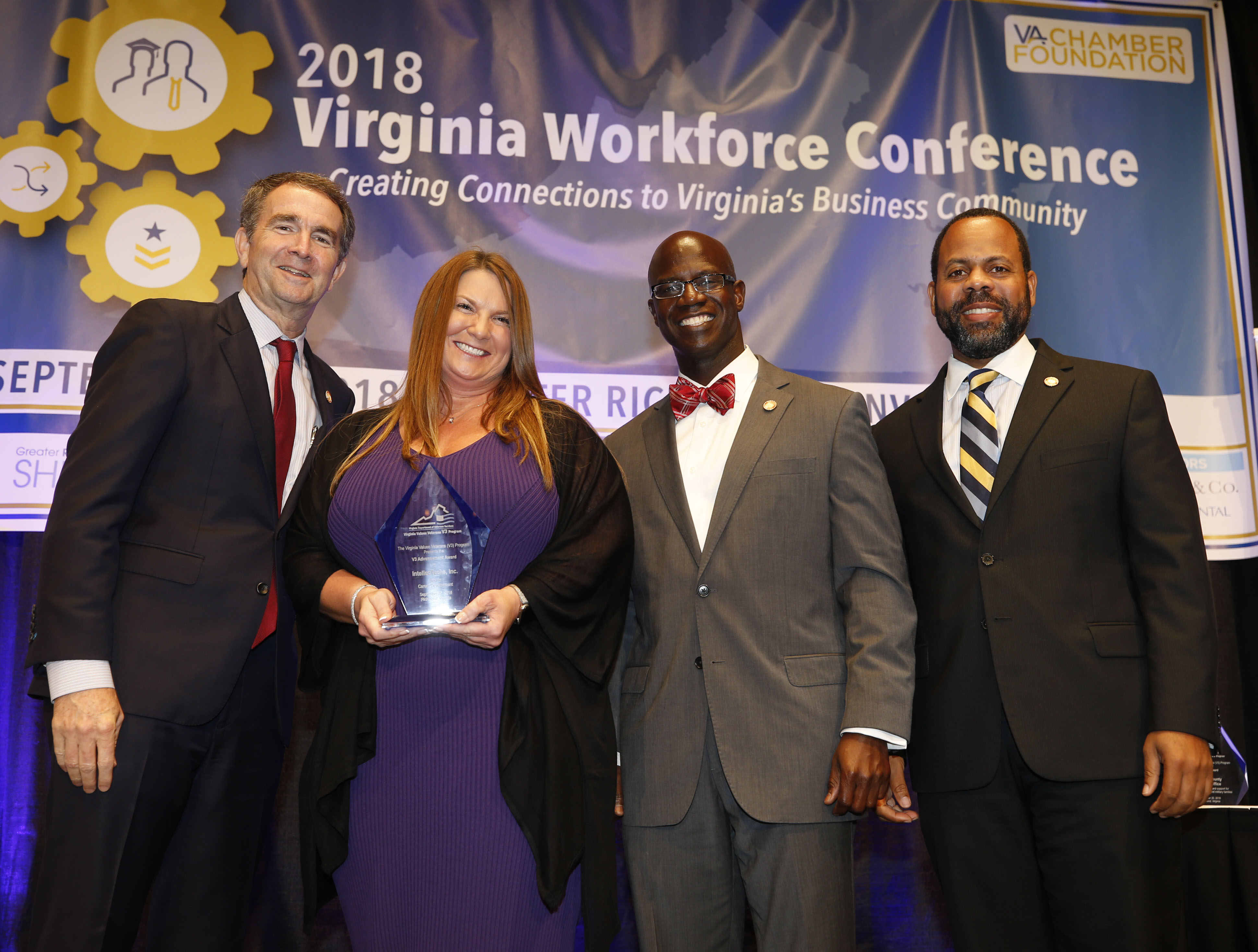 Virginia Beach, VA (September 25, 2018) – IntellecTechs, Inc. (pronounced In-te-LEC-Teks), is pleased to announce that they have been awarded the Virginia Values Veterans (V3) Advancement Award for "Best in Career Development."
The V3 Advancement Award is presented to one V3-Certified Company that demonstrates the "Best in Career Development" by submitting supporting documentation for application questions and a written essay detailing the company's onboarding and career development process. This award also features the company's ability to effectively utilize re-training programs for their veteran workforce.
Jeri Prophet, Founder and Chief Executive Officer, accepted this award at the 2018 Virginia Workforce Conference during the 6th Annual V3 Awards Summit on September 25th, 2018.  Virginia's Governor, Ralph Northam, presented this award as he recognized businesses for their ongoing commitment to hiring Virginia's Veterans.
"IntellecTechs is honored to be the recipient of the V3 Advancement Award. We have always been committed to our Veterans, active duty military members, and their families. We pledge to continue to look to the future for finding ways to improve our support to our Veterans, help them to succeed in the next chapter of their lives, and to develop their careers in the Information Technology services field," said Jeri Prophet.
The Virginia Values Veterans (V3) Program is a Commonwealth of Virginia, Department of Veterans Services Program. V3 helps employers understand, design, and implement nationally recognized best practices in recruiting, hiring and retaining Veterans that was organized under the directorate of Veterans Education, Training, and Employment (VETE), within the Virginia Department of Veterans Services (DVS).  IntellecTechs is part of more than the 600 businesses, state and local government agencies and educational institutions certified by the V3 program promoting the hiring of over 35,000 Veterans since 2012.
About IntellecTechs, is an 8(a) Certified by the Small Business Administration, Service-Disabled Veteran-Owned Small Business, Veteran-Owned Small Business, Economically Disadvantaged Women Owned Small Business, a Small Disadvantaged Business, and premier provider of professional services to federal and commercial customers. Founded in 2008, the company currently employs over 200 employees across 22 states and 5 countries.  IntellecTechs' core competencies include Information Technology (IT) governance encompassing portfolio management, financial management, enterprise architecture, cyber security, policy writing and enforcement, resource planning, IT process management, professional services, and staff augmentation.  For more information, visit www.IntellecTechs.com and connect with IntellecTechs on LinkedIn, Facebook and Twitter.